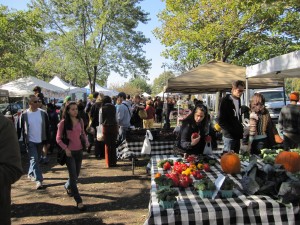 The title of this blog is stating the obvious, Logan Square has one of the best (and friendliest, in my opinion) farmers markets in Chicago. But we are definitely not the only ones in the city that stand out. Here a few others you should check out to support your neighborhood while taking advantage of some fresh produce.
Green City Market, taking place on Clark between Lincoln and Stockton, every Wednesday and Saturday 71m-1pm through October 31.
Museum of Contemporary Art at 22o E Chicago every Tuesday from 7am-2pm through October 27. You can have your art and eat it too!
Pilsen Community Market taking place at 1800 S. Halsted every Sunday 9am-2pm through October 25. This market has added meat and a community flea market selling all sorts of goodies!
Daley Plaza Farmers Market taking place at Dearborn and Washington every thursday from 7am-3pm until October 29. This is probably the most popular farmer's market because it is also been around the longest.
61st Street Farmers Market between Dorchester and Blackstone on 61st taking place every Saturday from 9am-2pm until Halloween day.
And at last…. Logan Square Farmers Market located at 3107 W. Logan taking place every Sunday from 10am-3pm until October 25 celebrating it's 10th year this year!
If you'd like to learn more about why you should visit these lovely hotspots, check out this link.