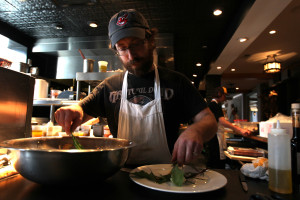 Previous Nightwood cook Jason Vincent announced that he will be opening a restaurant this spring in Logan Square on the city's foodie little strip on Armitage Avenue. It will be located at 3209 West Armitage, taking over the spot that used to be Begin Thai.
The restaurant will be called Giant and will feature elevated Midwestern dishes. Ben Lustbader also from Nightwood and Josh Perlman will also be joining Vincent on his new endeavor.
You can read more about this story here.